Blog
Learn how to clean wooden furniture properly
16.12.2019
Maintaining wooden furniture doesn't take much time or effort. However, you do need to learn some basic cleaning methods. Learn to properly clean wooden furniture and increase its lifespan. It can retain its original appearance without defects or marks for years. Before you start cleaning, check what material it is made of. That's because the correct way to maintain wood or veneer products is different from the approach needed for laminate or other materials.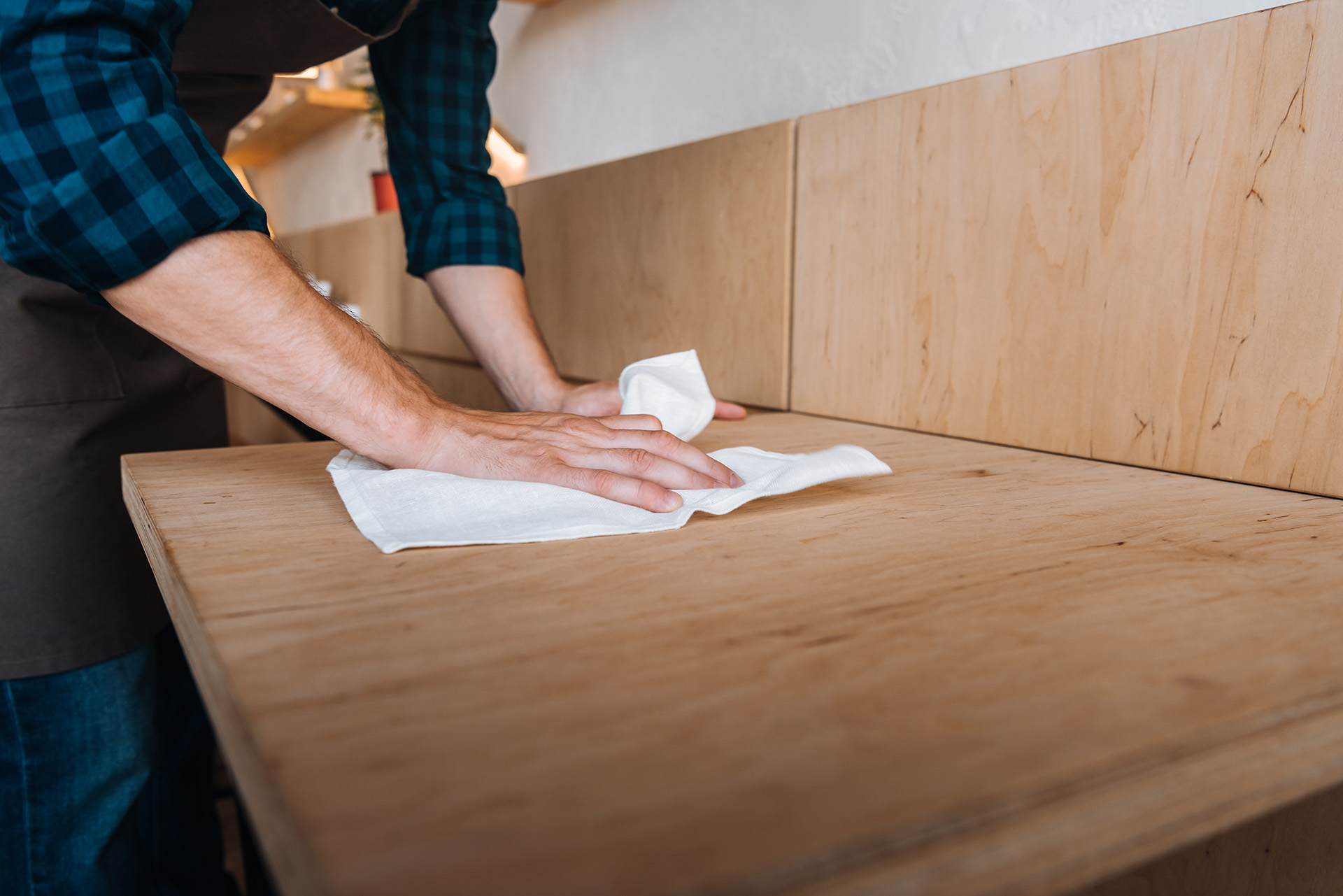 Do you know how to properly clean wooden and veneer furniture, or painted furniture? Each material has its own requirements.
Solid wooden furniture is at greater risk of getting stained or damaged.
Cupboards, beds, tables and other solid wooden furniture look great due to the natural structure of wood, which is also exceptionally sturdy. However, it is one of the more difficult materials to clean, especially when it lacks a protective layer of paint or oil. Solid wooden furniture shouldn't come in contact with liquids. If this happens anyway, you should immediately dry the wood using a microfiber cloth.
We recommend cleaning solid wooden furniture using special wax or oil-based cleaning agents. Put some of the cleaning product on a cloth and carefully wipe down the wooden surface. This will remove any dust, while at the same time creating a protective layer which will prevent excessive build-up of dirt or penetration of liquids into the wood. For one example, solid ash wood is used in the legs of the TAK office table or the popular TAK shelving system.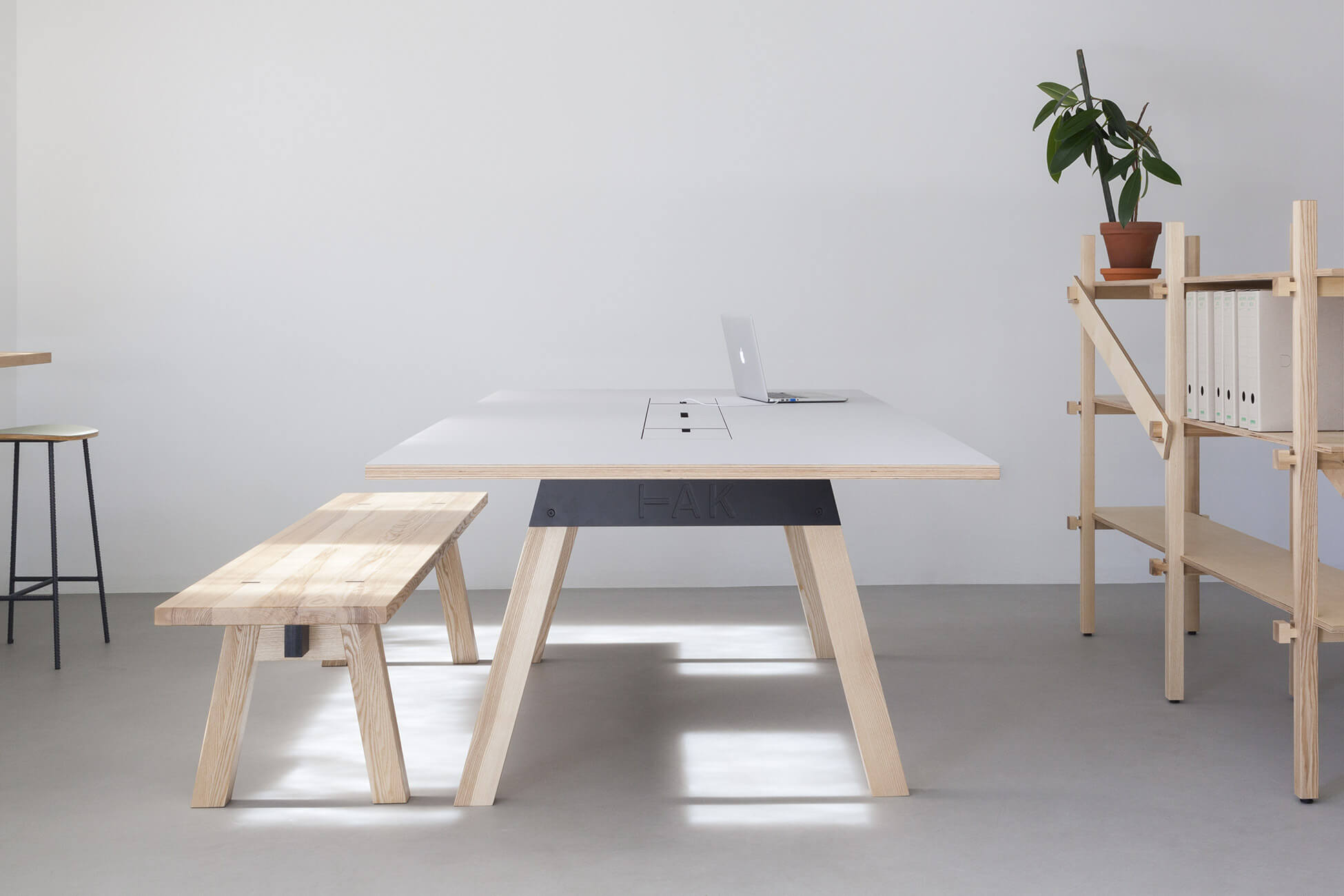 The legs of the TAK office table are made of solid wood. Don't forget to clean them with oil or wax-based cleaning agents.
Clean painted furniture without strong pressure
Transparent or coloured paint on wooden furniture works as a protective layer, giving it an improved endurance against moisture or physical damage. Cleaning painted furniture is easy, but you still have to respect some basic rules of maintenance to avoid the risk of damage to the layer of paint. Always clean such furniture with a damp (not wet) cloth, then wipe it dry with a soft towel.
Clean the furniture without using too much pressure. Such pressure could damage the paint or create an unwanted shine, which cannot be removed. If the painted furniture is very dirty, use diluted detergent or soapy water if necessary. While oil-based products are recommended when cleaning solid wood furniture, for painted items this is not true. Using oil-based cleaners could lead to an unevenly polished surface and patchy areas.
Veneer furniture – take care as it could dry out and crack
Do you have beautiful veneer furniture in your home? This requires more attention to cleaning and maintenance. Just as other natural materials, veneers require a lot of care to ensure they keep their properties and appearance. Remove dust with an alcohol-based cleaning agent, then once more wipe the surface dry with a microfiber cloth.
Veneer furniture must be regularly treated with polish containing wax or oil additives. If you don't regularly clean and treat veneer furniture with oil or wax-based cleaning agents, the wood may dry out, leading to cracking or warping. Repairing such items of furniture can be very expensive. By regularly cleaning and treating it, you can entirely eliminate any such risk. Veneer is used as one of many wooden materials in production of the popular MOVE ME modular boxes.
MOVE ME modular boxes are made out of solid wood, veneer or MDF.
Laminated furniture is resilient and requires minimal maintenance
Laminate is an affordable and sturdy material, requiring no complicated maintenance. Chipboard covered in lamination paper with a coating of resin is regularly used in the production of kitchen units, shelves or cupboard doors. It is quick and easy to clean – all you have to do is wipe the surface with a cleaning agent or soapy water. No waterproofing, treatment or polish is necessary.
On the other hand laminate furniture does not tolerate long-term exposure to water, especially in the joints of individual parts of the furniture. The laminate can become unstuck in these joints, with the moisture permeating deep into the structure of the material and causing irreversible damage. For this reason, avoid using steam cleaners and when cleaning surfaces with water, always dry them properly afterwards. Never scour laminate with a scrubbing brush, steel wool or abrasives. This would easily scratch the surface. Also avoid using any solvent-based cleaning agent. Instead, use warm soapy water, which should be sufficient to remove most dirt.
Simple maintenance is something we consider when developing all of our product lines. This is why we only use materials which are easy to maintain, ensuring a maximum lifespan and beautiful appearance. This is the same approach taken by all our long-term partners. For instance the JECH company, who produce solid wood couches and living room sets.