Blog
New TAK storage systems divide and connect your space
22.5.2019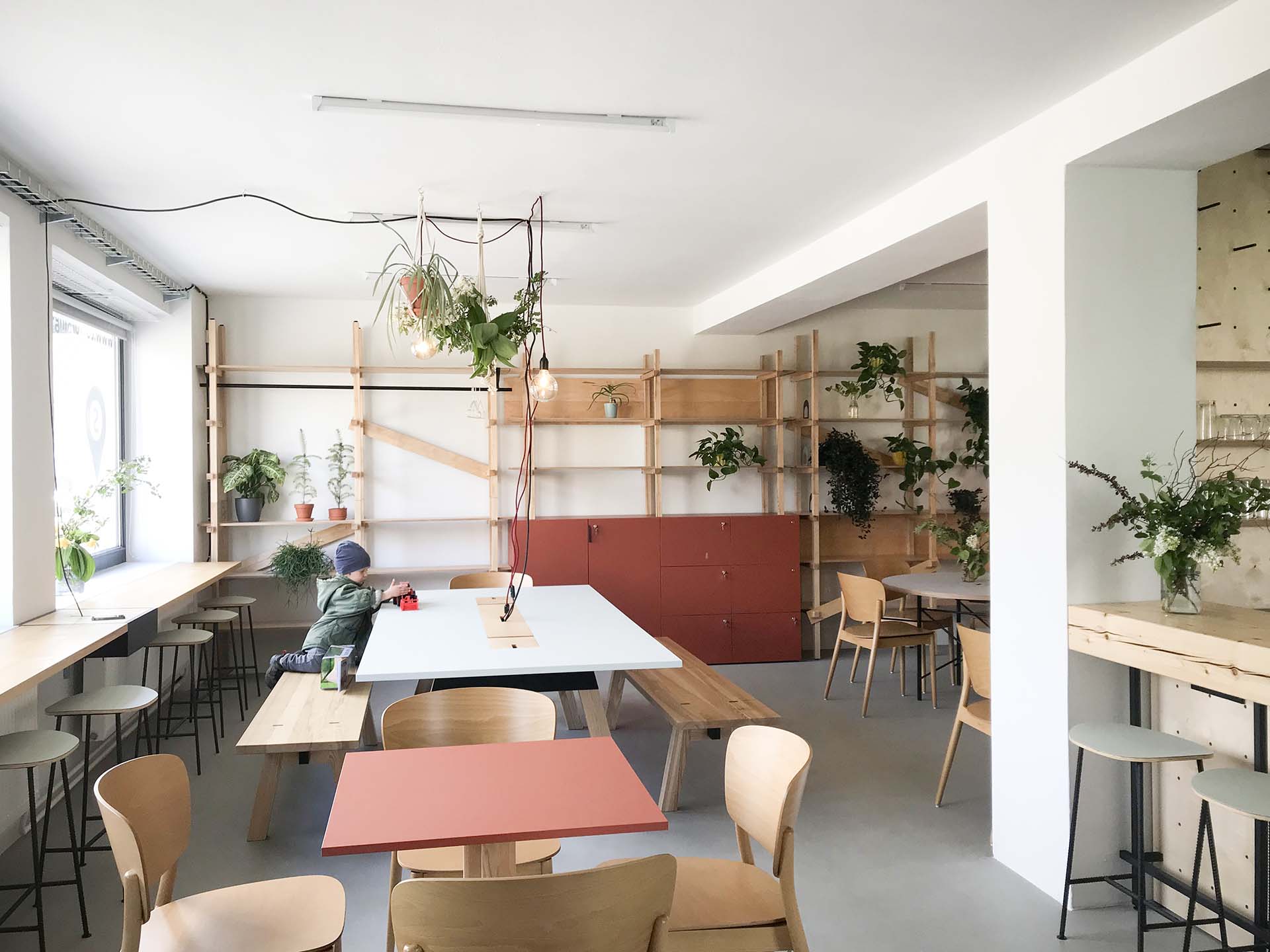 Are you planning to arrange a new large office and would like it to have a more intimate and personal appearance? Use wooden shelving systems that serve as stable storage space and at the same time provide an optical division of the room. The new TAK storage systems were created just for this purpose, as they can divide as well as connect your space. They are prominent not only in large but also small offices, where they can also be used to create green walls.
The shelving system stands out next to the wall and in the space
During the creation of the minimalist TAK shelving systems, we were inspired by classic scaffolding, which must be secure and stable. The shelves are made of solid wood and plywood and utilize a traditional joiner's joint to avoid the use of screws. The shelving systems can be combined with other storage spaces to visually aerate or lighten them.
The TAK shelving system can be built either by the wall or placed freely in the room, where it can serve as a functional dividing means. When placed freely in the room, the shelves can also be assembled without a rear wall to underline the openness of the divided space, and they can be used from both sides. It is also possible to use a special acoustic panel instead of a plywood rear wall to improve the acoustic properties of larger spaces.
Change the layout of the struts or shelfs in a few moments
The basis of functional office furniture is its maximum variability. We were well aware of this when we designed the new storage systems. That is why we produce furniture that enables the layout to be changed in moments. Specifically, in the case of the TAK shelving systems, you can simply change the layout of the shelves and struts and adjust the storage space to tailor your current needs. For example, you can easily remove one of the shelves and create a large storage space for winter jackets. In a moment you can also add a rear wall for more privacy, or build another floor of shelves to increase the storage space.
Connect the storage system to your work desk
Office supplies, documents, books and other items should be within reach from your desk. Bear this in mind when designing a new office and incorporate the shelving systems so that they are easily accessible from the workplace. Our shelving systems can also be directly connected to the work desk. This will create a full-fledged workspace, which will stand out with sufficient space on the worktop and provide immediate access to stored items.
In addition, the shelving system can be combined with closed cabinet systems, such as lockable boxes, whose dimensions are based on the shelving grid and can therefore be easily incorporated into the shelves.
Sliding containers for even greater variability
In some cases, it is good to have a storage system in the office that can be moved easily from one location to another. Therefore, we recommend that you also purchase sliding containers, which you can find in the TAK storage systems. For example, you can place them under a work desk and simply move them to another desk, meeting room, or use them as a counter if necessary.
With a suitable combination of storage systems, work desks, benches and other office furniture, you can create a functional space that captivates with its variability and lightweight appearance. Be inspired by other products from the TAK furniture range and take advantage of your office's full potential.