Blog
How do you create a relaxation zone for your employees?
25.3.2020
Without relaxed employees that are full of energy, strength and determination, no company can function in the long-run. Creating a relaxation zone is one way of fostering a corporate culture and giving employees a well-deserved moment of rest. Relaxation zones can be found not only in large corporations but also in small and medium-sized companies. What should a relaxation zone look like and what should not be missing from it?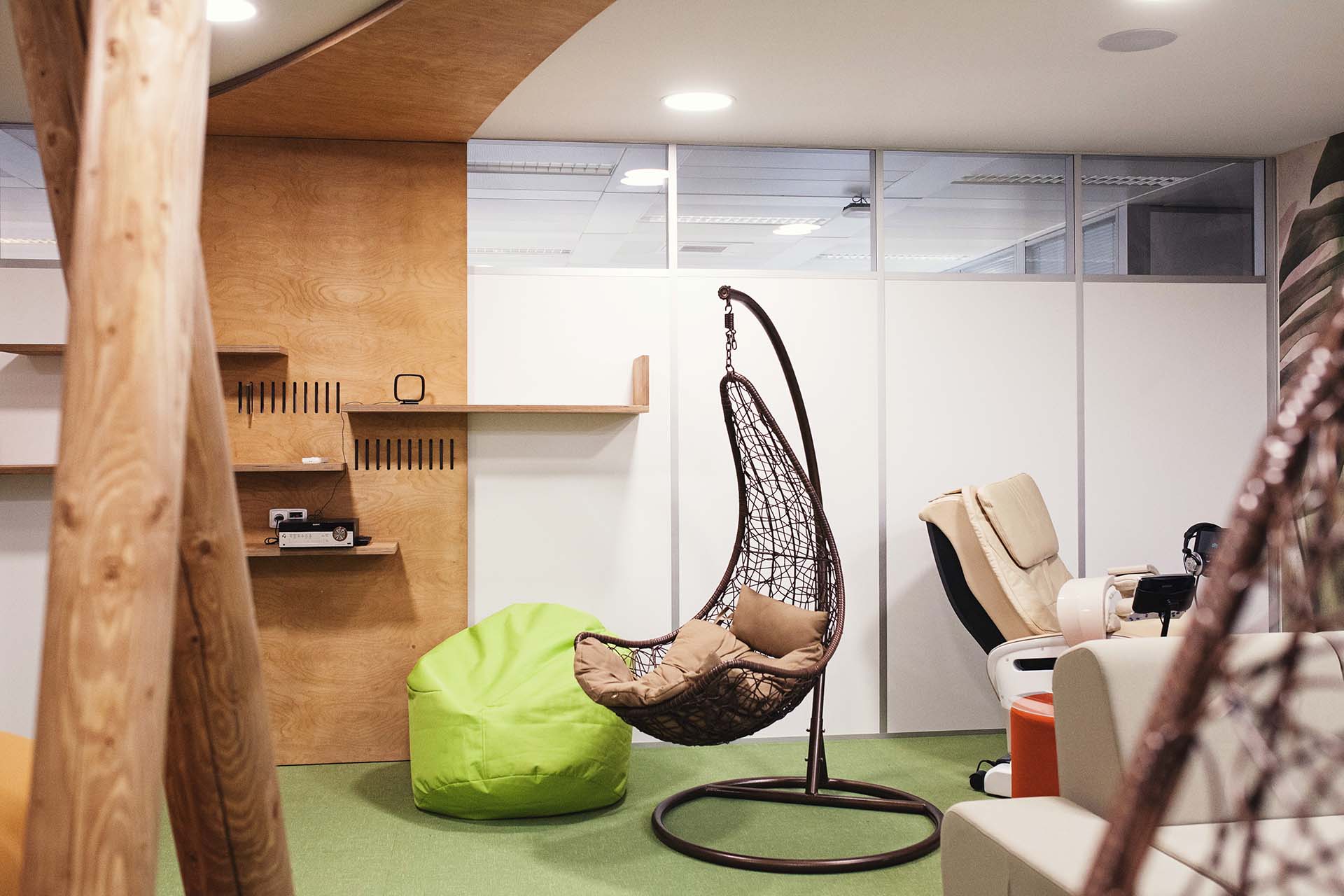 Comfortable seating is the cornerstone of the relaxation zone.
Relaxation zone - space for passive and active relaxation
A company's relaxation zone should provide facilities for all types of employees and consider their personality traits. While some prefer active rest and collective activities, others like to retreat to one side and have a moment just for themselves.
If the area allows, equip the room with fun elements for collective activities. Table football, table tennis or even game consoles are very popular among employees from all fields of expertise. At the same time, think of introverts and born recluses. Give them peace of mind by relaxing on a comfortable beanbag, armchair or sofa (for example, the popular MOVE ME sofa) and provide a library or a small table for imaginative creations. A data projector and a projection screen are also ideal for collective and individual relaxation.
Comfort comes first
Do you want your employees to feel good in the relaxation zone? Then make sure they are comfortable! In the office, workers must spend most of their time in a single sitting position. Customize the relaxation zone so that people can walk around freely, stretch out, or even lie down. Beanbags are perfect for this. They are easy to shape and can be customized to suit your needs.
For example, a modern rocking chair provides comfort. This can be found, for example, in the relaxation zone of MANN + HUMMEL, where you will also find interior furniture from the workshop of Profil Nábytek.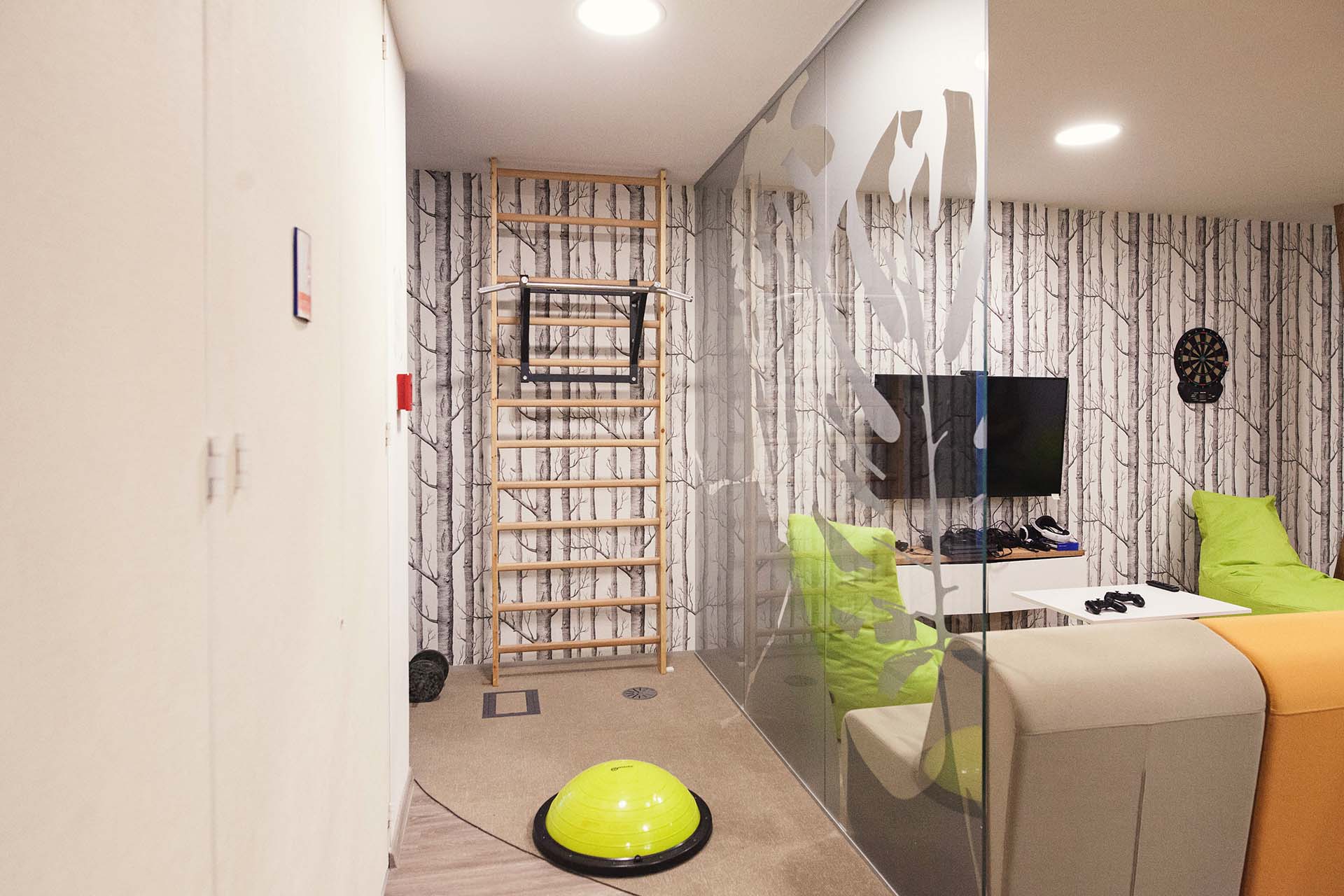 Employees can relax while playing the console, darts or go stretch and work out.
Fresh air and sufficient lighting
The room must have a good climate and fresh air, which will oxidize the brain and promote concentration after returning to work. As there are more people in the relaxation zone, the room needs to be ventilated more often. Often it is necessary to ensure a good climate by installing a good quality ventilation system or air conditioning.
The relaxation zone must also have sufficient lighting. In areas where only a small amount of natural sunlight penetrates, do not forget an adequate number of artificial light sources in warmer colors.
Relaxation zones should be harmonious
The design of the relaxation zone should match the material and color of the other interior spaces and follow the uniform corporate style. Nevertheless, you can experiment with the space and incorporate elements not found in other rooms. A typical example is that of green walls, which give a calming impression and at the same time produce oxygen. Provide your company with a piece of nature and incorporate green shelves or suspension systems. You will see that it will definitely benefit the relaxation zone.
Do you prefer minimalism and do not want to unnecessarily overwhelm the room with robust and cumbersome furniture? Then reach for office furniture from the MOVE ME range. Complement the relaxation zone with tables of various sizes or mobile boxes, which can be hung, stacked or used directly for seating. Thanks to these modular boxes, employees will be able to adapt the layout of the room according to their needs. Furniture from the TAK range, which is simplistic in its shape but at the same time is flexible and comfortable, is definitely suitable for relaxation zones. For fans of simplicity, it is a clear choice.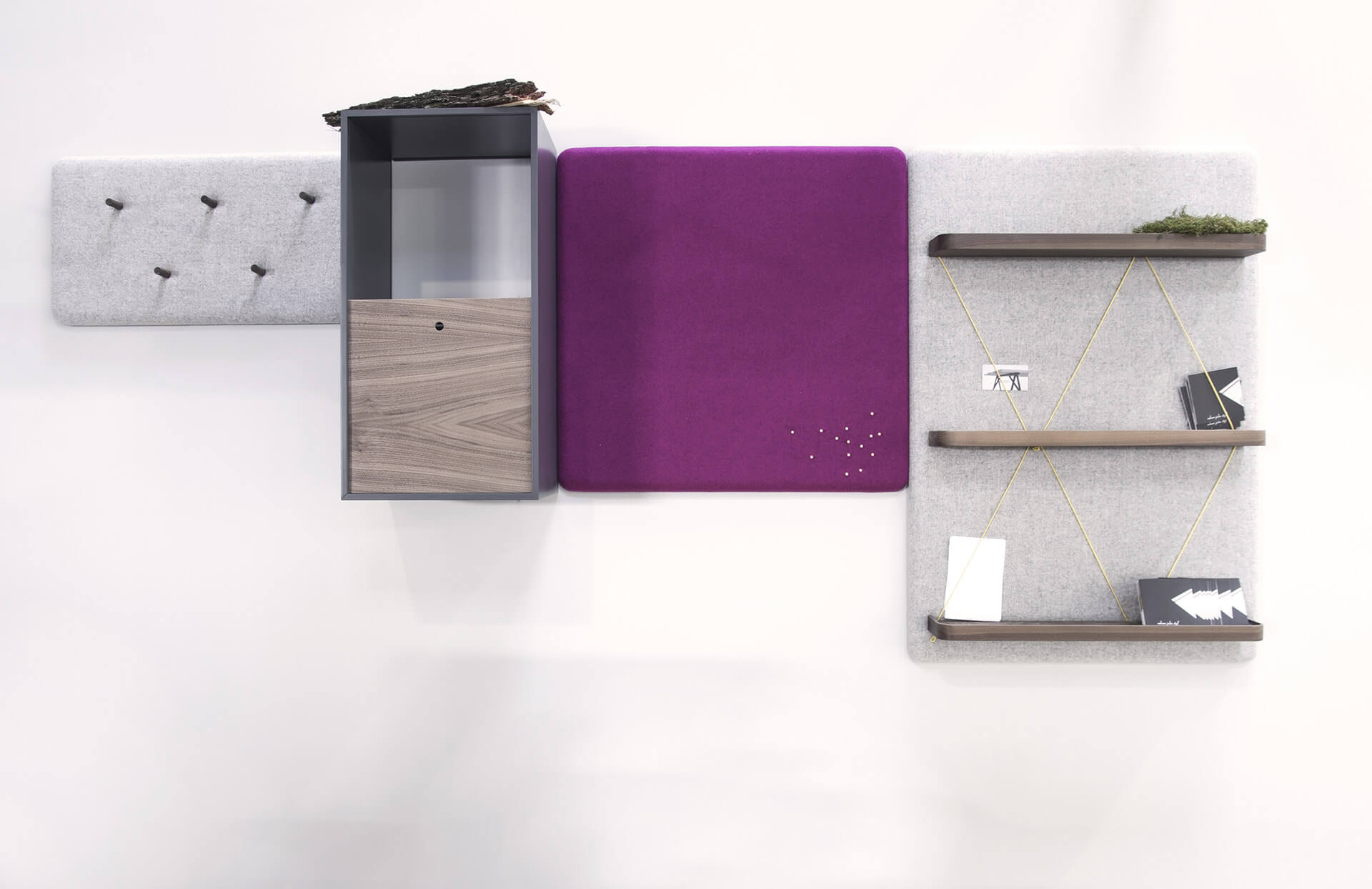 Decorations complete the overall impression of the space.
Do not be scared to experiment and work with natural materials. Try to keep the interior airy and do not overwhelm it with excessive furniture. Contact us, we will be happy to work with interior designers to create a relaxation zone, which will help your employees be more creative and productive.