Blog
This is what a meeting room in your company could look like
11.3.2020
For many companies, a meeting room is not only a representative space but also a center for collective work. It is here that new ideas are borne as a result of mutual discussion, moving the company a bit further forward. It is also a place where business negotiations, training sessions or meetings with clients take place. Therefore, a meeting room must not only be nice to look at, but it must be particularly comfortable and functional. See what a meeting room in your company could look like and what it should not be missing.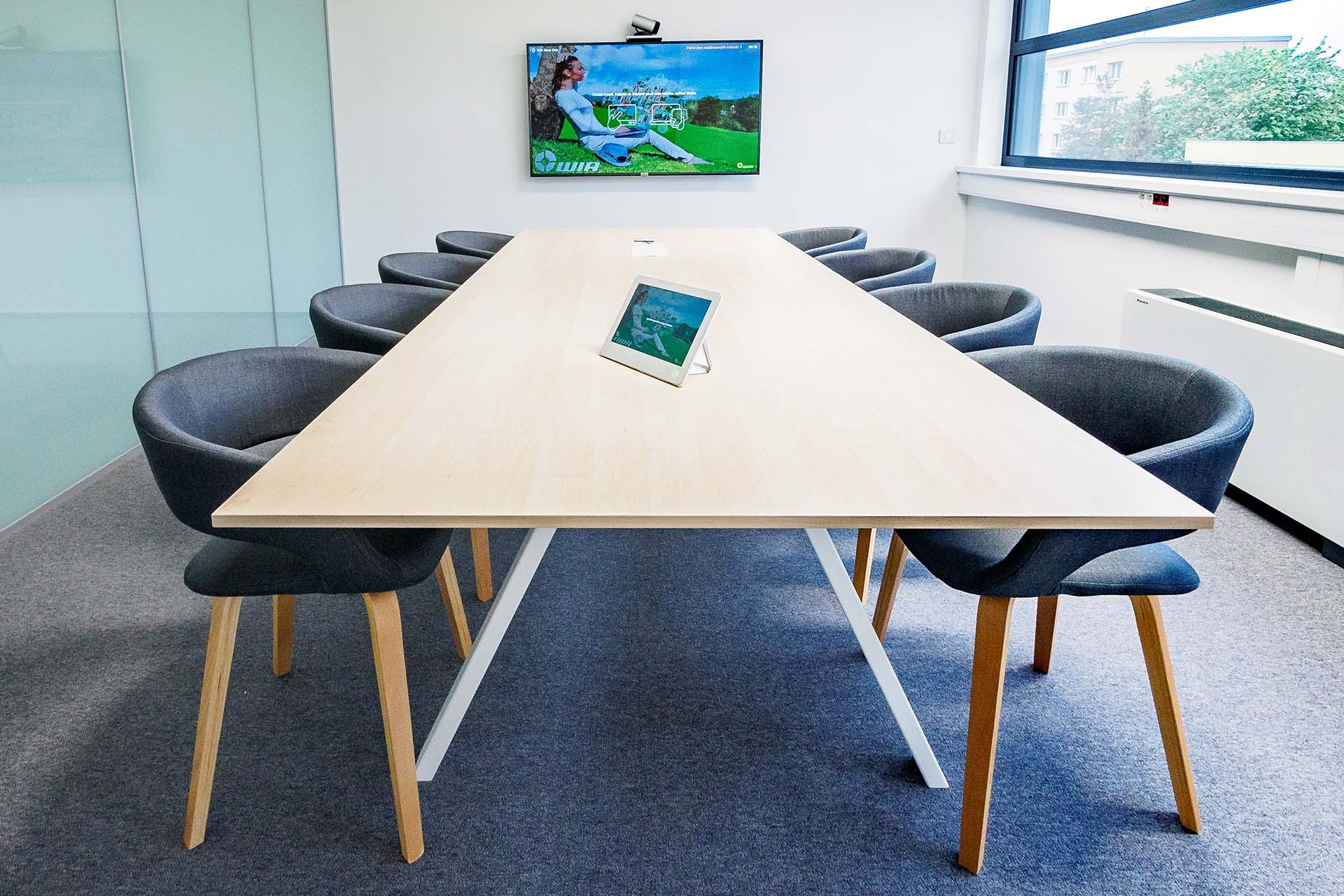 Provide your meeting room with a distinctive style that matches your corporate identity.
A meeting room must be airy and calm
When planning your future meeting room, think about creating an atmosphere that will create the perfect conditions for working and the meeting of a large number of people. The room must be sufficiently spacious and airy. Allow users to move around the room unhindered and select furniture of an adequate size to fit the space.
Avoid placing a large number of distracting elements. Prioritize a pure design yet strive to create the space in accordance with your company philosophy. Do not forget that the meeting room should be calm - try to place it as far away from busy areas (such as the kitchen) or soundproof it.
A large worktable – the dominate feature of the meeting room
The most important element of any meeting room is a table. Choose one that is large enough and suitable for working together in a team. Tables from the TAK range whose construction allows free movement around the worktop, were designed for this purpose. They are conceived as a central point of the office space where people not only meet and work, but also relax and have fun.
Even smaller meeting rooms deserve a pleasant and discreet working environment. Round tables are a good choice, combined with conference chairs to provide a fully-fledged meeting environment. Thanks to the ease of movement around the table, they are also designed for teamwork. Make sure you get comfortable chairs around the table and don't forget to include enough storage space - chests of drawers or shelf systems. For example, you can make the room special with a small company library.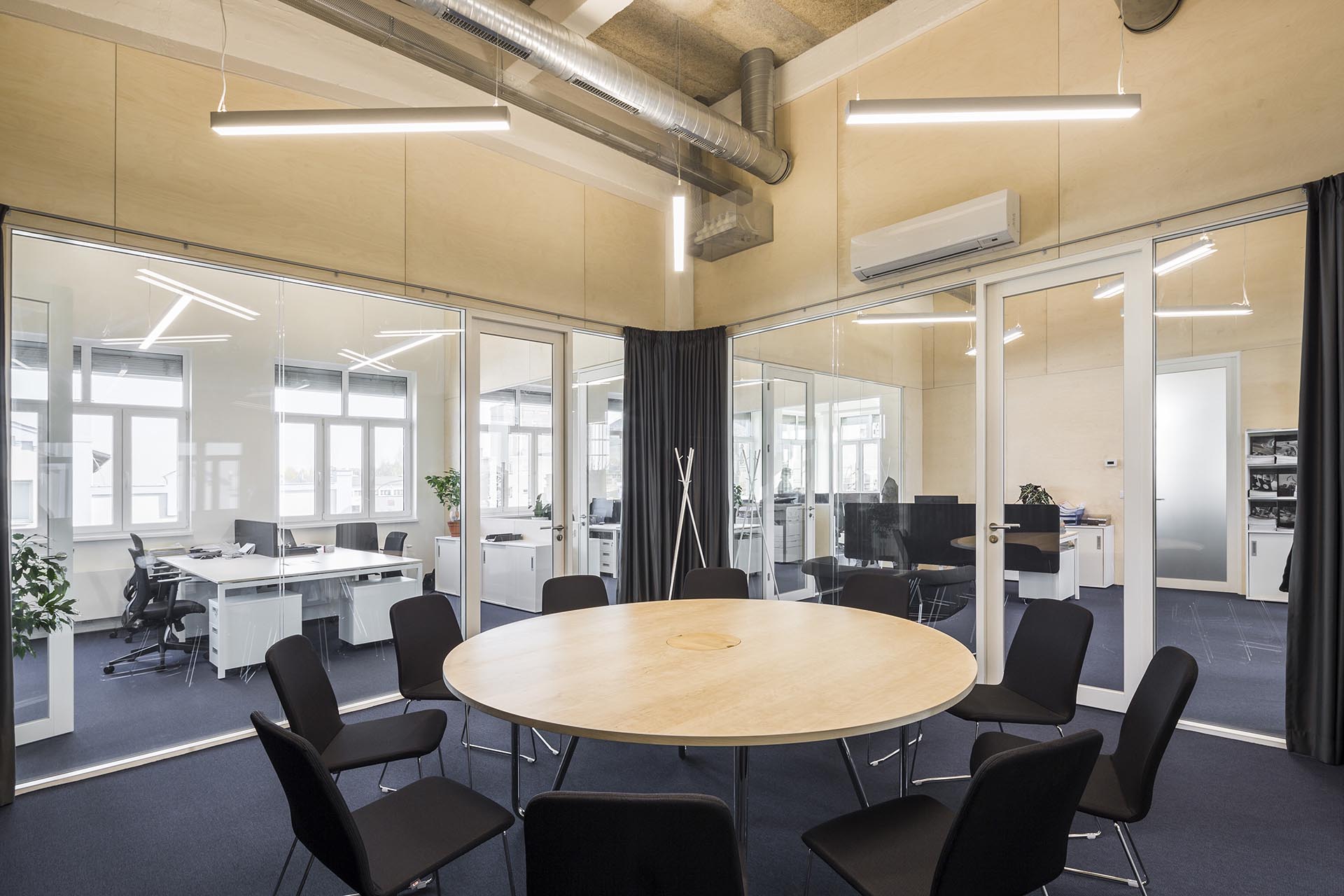 Comfortable seating and a spacious table are the most important elements of any meeting room.
Which table? You can choose from many different furniture ranges
When selecting a table for your meeting room from Profil Nábytek, you have a choice of many shapes, sizes and materials. In addition to the TAK range, which offers more luxurious materials and larger formats, MOVE ME tables are a good choice. They are available in many sizes from small to large, which are also suitable for larger corporate training sessions. Work tables from the PROGRES range excel in their maneuvering space. Adapt the meeting room to your needs by stacking various different segments.
Don't forget about office equipment
Most meeting rooms cannot do without office equipment. Therefore, tables should be equipped with a sufficient number of plug sockets or bushings to connect electrical equipment. If you plan to hold video conferences in the meeting room, make sure you have good lighting and a clean background. Room acoustics are also important. These can be improved by, for example, procuring textile curtains in various colors.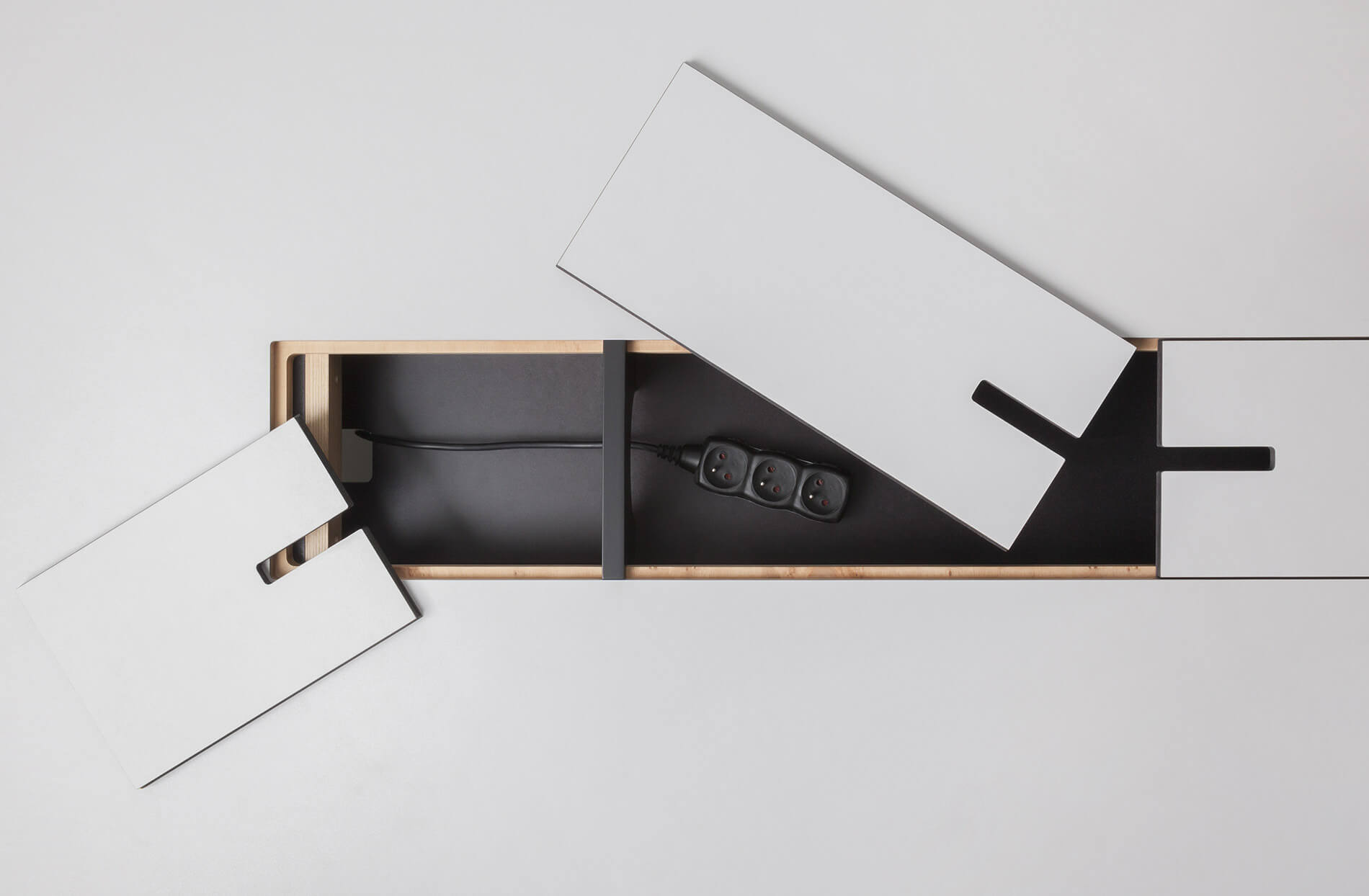 Always keep plug sockets and HDMI cables close at hand.
Functional design accessories for your interior
Don't want your meeting room to be dull and bland? Then fill it with interior accessories that will be not only pleasing to the eye, but also functional. In addition to the above-mentioned textile curtains for improving the acoustics, equip the space with notice boards with a textile cover or magnetic or marker boards. Bring an element of greenery to the interior and work with natural materials that are pleasing to the touch. An example of a modern functional accessory is the popular TAK coat hanger, which visitors can use to store their clothes while also appreciating its unusual appearance.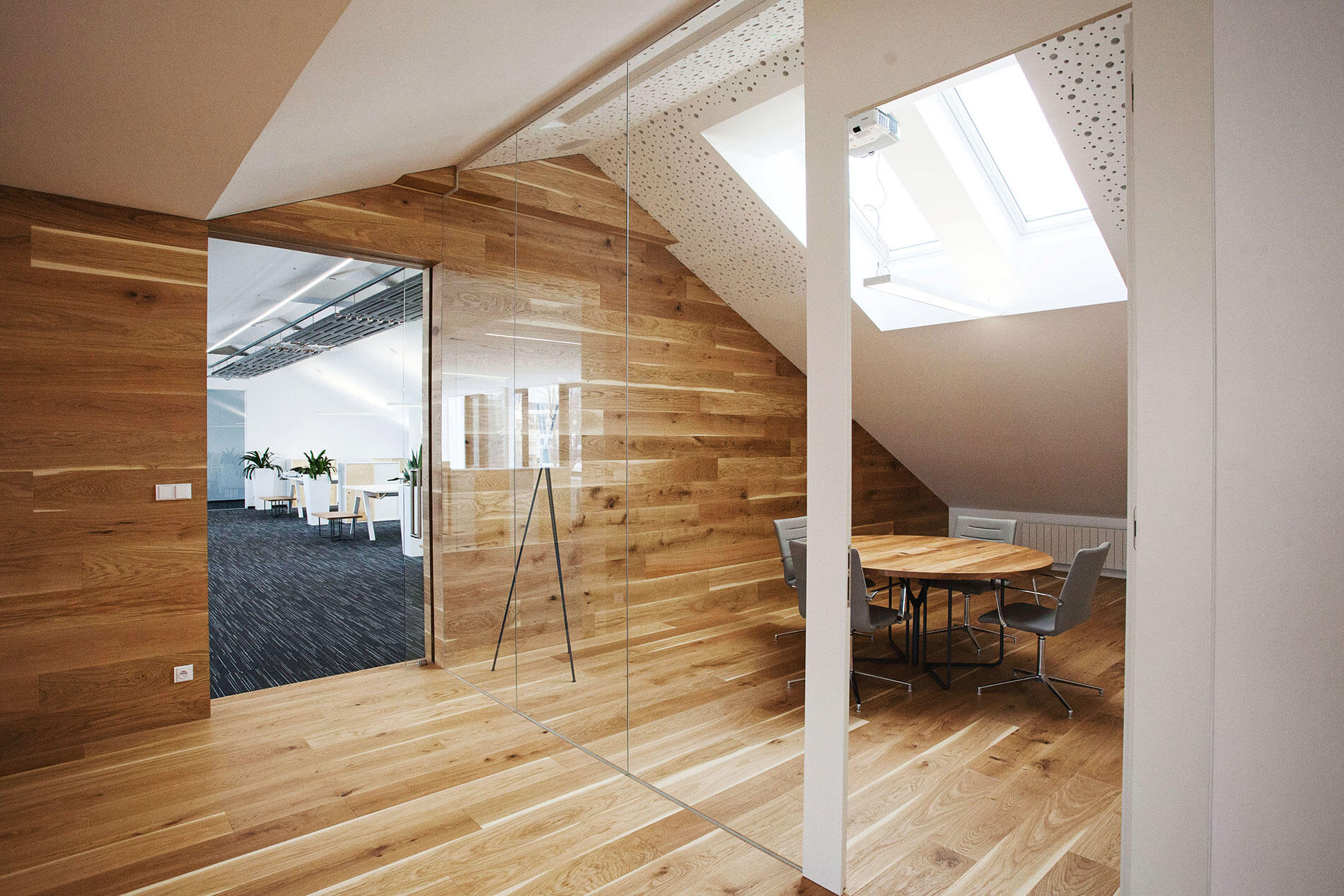 You can functionally separate the space with a glass wall, which will let much needed light into the interior.
We have completed countless meeting rooms for small and large companies. Our furniture can be found in meeting rooms of the companies MHA Humpolec, Testiana and Tescan. Are you longing for a meeting room that will attract attention and bring a new impulse to your business? Contact us, we will introduce you to our individual furniture series and design a meeting room in which you will shine.