Blog
We can advise you on how to choose colors for your interior
22.1.2020
Colors affect the human psyche and significantly add to the overall impression of interior space. Some colors can energize and invigorate, others calm and promote concentration. Therefore, when furnishing an interior, you should pay attention to the right combination of colors and their shades with regard to the type and purpose of the space. We can advise you on the right choice of colors for offices, residential interiors or healthcare facilities.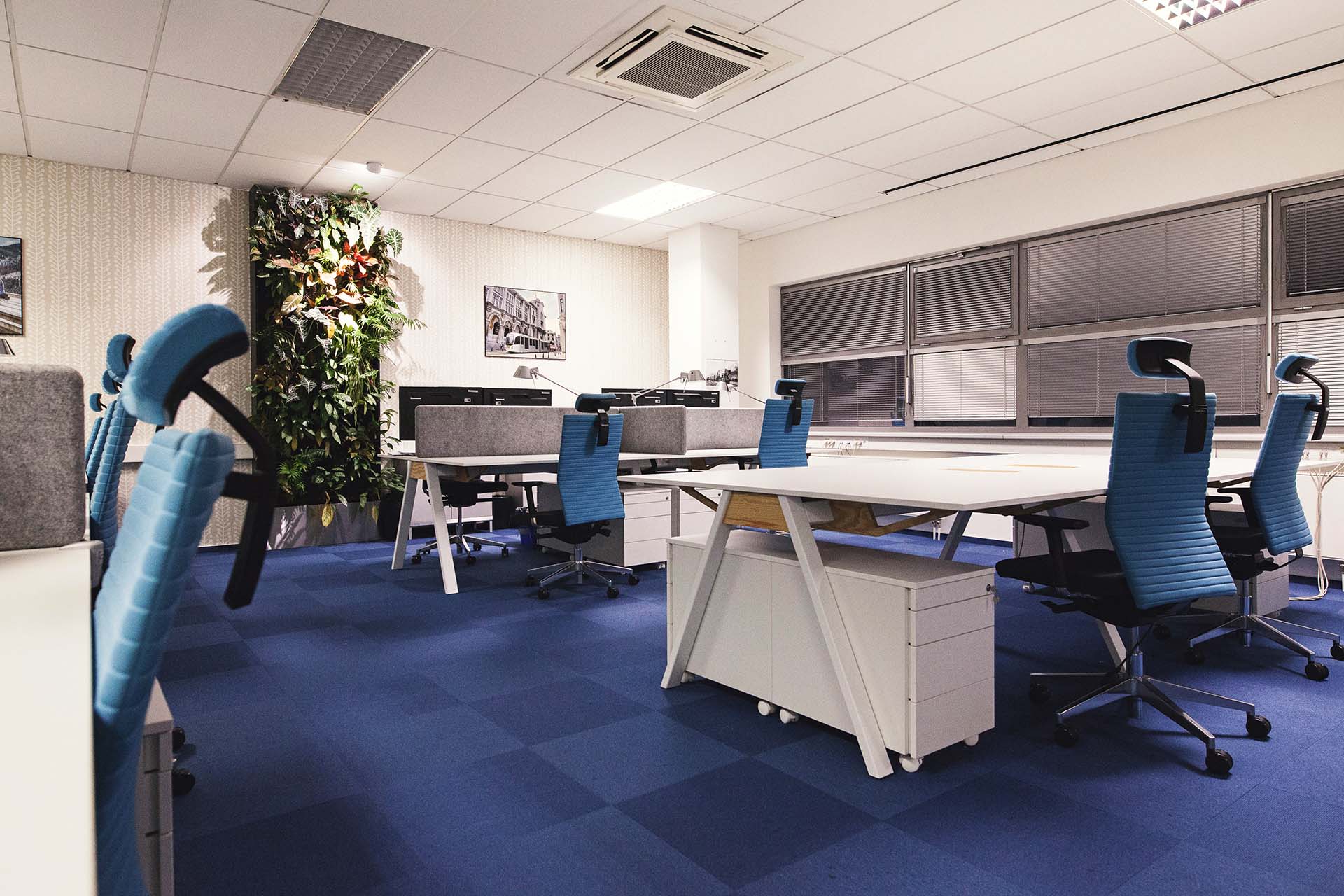 A blue interior gives a reassuring impression and looks solid and serious.
When choosing colors, consider the type of interior
The specific choice of colors and their combinations depends on the type of interior and its purpose. For example, in healthcare facilities, shades should be selected to create a sense of security, peace and relaxation. Therefore, lighter colors are chosen and pure white generally dominates.
When implementing residential interiors, the architect must listen to the needs of the client and determine what environment they feel good in. Some people prefer monochrome colors, while others prefer more colors. Shades are also chosen according to the purpose of the room. For example, a deep red color adds energy and stimulates conversation, so it suits a dining room or kitchen, on the contrary it is not best suited for the bedroom.
The choice of office colors considering your corporate identity
Shades for an office space are chosen with regard to the corporate identity and purpose. Is motivation of employees, who you want to provide with a pleasant working environment where they can fully concentrate and feel comfortable, the main priority? Or, on the contrary, do you want to create an environment that is extroverted, supports mutual communication and invigorates for maximum performance or creativity?
Furniture from the MOVE ME range, dominated by white and black, is best suited for office space. The client then selects other colors according to their corporate identity and the purpose of the interior space. Thanks to the variability of furniture and the possibility of combining color shades, you can easily achieve the desired goal, whether you want to create harmony and a soothing atmosphere, or maximum performance. Bear in mind that the selection of color can also serve as a marketing tool. The right combination impresses the public and differentiates you from the competition at first glance.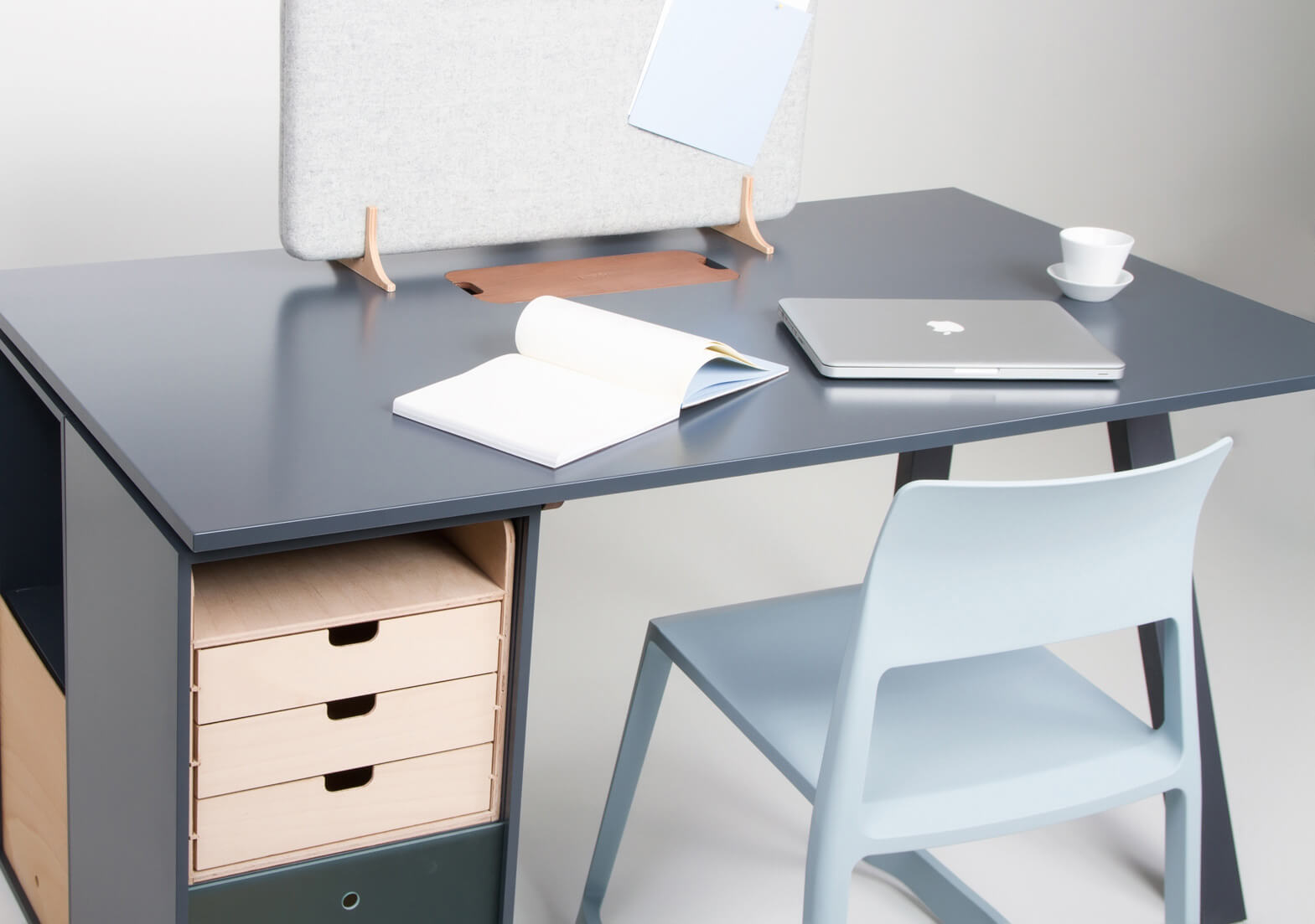 The MOVE ME furniture range is dominated by white and black, so it can be combined well with almost all types of interiors.
How certain colors affect the psyche
Interior designers recommend combining a maximum of three colors, which will repeat in the space at varying intensities. One color should be dominant, and the other two should be complementary. You can also choose colors based on their effects on the psyche:
White - a classic color, with which you would make no mistake in any interior. It calms, brightens dark rooms and expands them visually. Spaces with a dominant white color should be enhanced by more contrasting colors.
Black - looks solemn and serious but should be handled with care. It is recommended to combine with lighter shades, which stand out and brighten the space. Use black as a complementary color to accentuate specific interior elements.
Red - a distinctive color that has the ability to provide energy and lead to maximum performance. It promotes communication but may impair the ability to focus and disrupt concentration.
Blue - a calming color that releases tension and helps with relaxation. In residential areas, it is often chosen for bedrooms or bathrooms. It combines well with yellow or green.
Green - considered the color of hope and a return to nature. It provides a sense of security. Light shades of green are a good choice not only for residential areas, but especially for relaxation areas within companies.
Yellow - brightens dark spaces, maintains a clear mind and encourages concentration in workrooms. It has the ability to calm and improve your mood. In interiors, it is excellent in combination with darker shades, where it creates an eye-catching contrast effect.
The effect of warm and cold shades - not only depends on the color, but also of course on the shade. Warm shades are dynamic and stimulate physical activity, while cool shades diminish it.
The color of an interior is also given by the naturalness of the materials
It should be taken into consideration that the color scheme of interior spaces can also be given by the naturalness of the materials. Orange copper, red brick or wood species are timeless - they will survive trends and will not get tired. We think about timelessness and a connection with natural materials in the development of all our furniture ranges.
That is why our collections are sparing in color - we recommend clients choose fewer colors for the basic elements that are acquired ideally for their whole life. On the contrary, accessories can be brightly colored. When you get tired of them, you can easily change them. For tables or built-in wardrobes, choose more modest colors, while in the case of curtains, screens, lighting or carpets do not be afraid to reach for bolder shades.
In the case of the TAK furniture range, the colors of woods and complementary materials play a key role. Colored MDF and linoleum on the tables, which is available in a beautiful range of colors, best suit office desks. Customers prefer light gray and pistachio, but they can let loose and reach for dark green, blue, bordeaux and many other shades.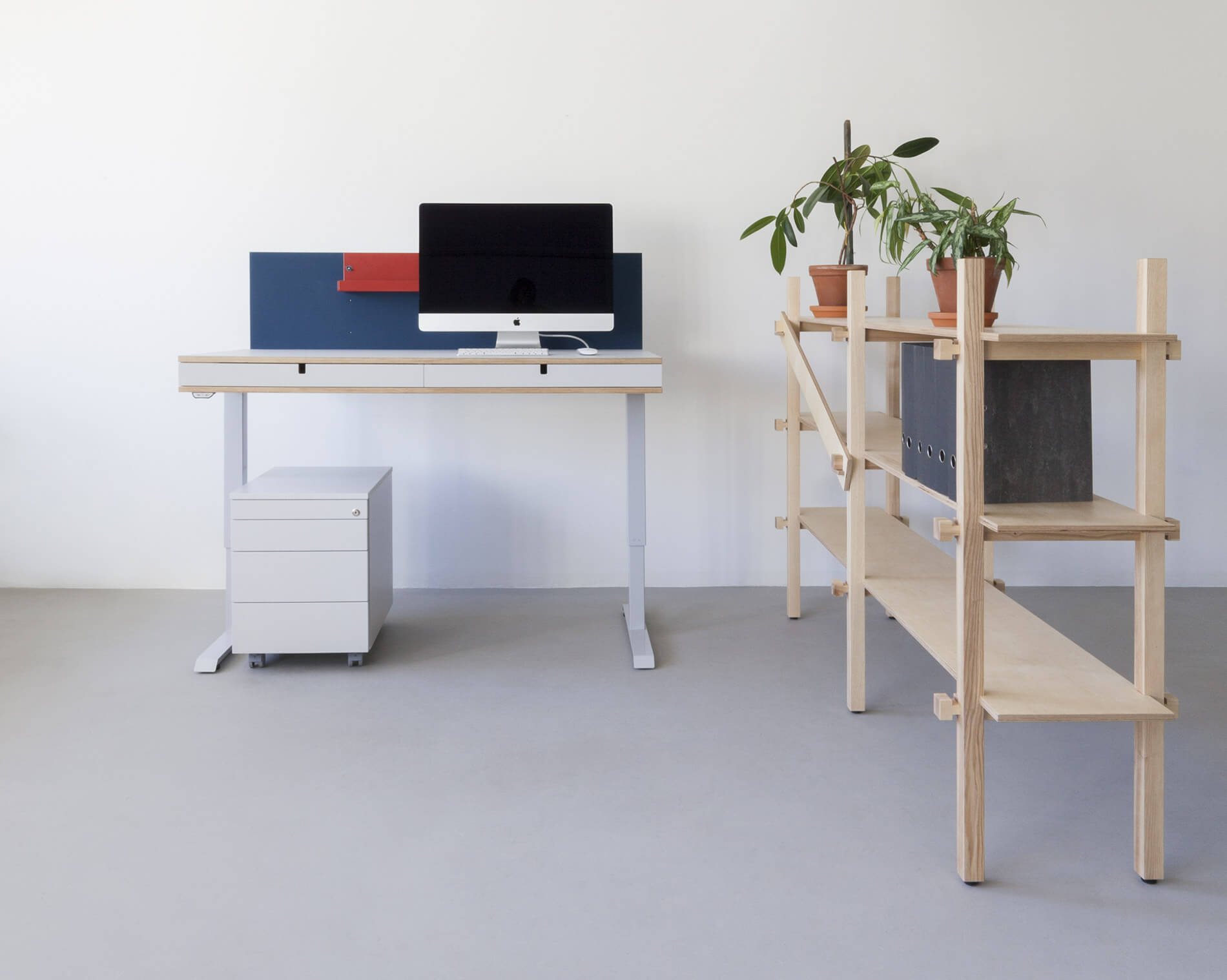 The TAK furniture range offers a choice of colors for table tops - you can choose from muted as well as strong shades.
Bet on timelessness and avoid passing trends. When selecting colors, consider the type and purpose of the space. If you are not sure how to combine the shades, please contact us. We will be happy to help you in the design and manufacture of furniture to suit your ideas and the purpose of a specific interior.
Thank you for your interest!
Please fill in the application form and we will get back to you as soon as possible.